20 Best Ride On Toys for 1 Year Old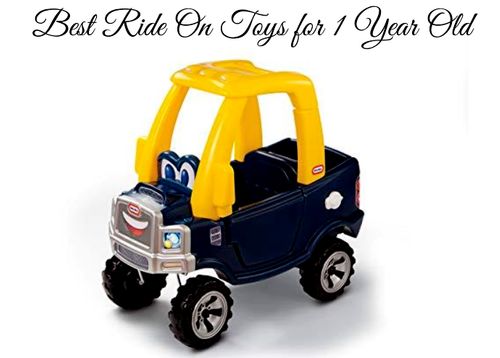 Ride on toys for 1 year old have an awesome positive impact on the improvement of your child which is not only great fun for them but also develop strategic skills.
You are looking for the Great ride on for 1 year old because, at the age of 1 year old some babies starting their first steps around their first birthdays.
During these months of practice, most toddlers drop while walking, but this is the period of learning to walk.
If you have a toddler 1 year old, then you most likely to get more exciting things for your loved one.
He might even be trying around, kicking balls, and throwing things.
There are the best options available for toddlers right now. We have found to choose the excellent ride on toy for 1 years old to help you.
When selecting toys for 1 year old boys and girls, be sure to pick those products that match their interests but still help them learn something new and enjoy.
Our experts test most of the toys for safety, functionality, and fun factor. These toys and gifts will help them develop new skills.
Let's check out this comprehensive list of these best ride on toys 1 year old.
Wooden shape scoot is one of the perfect ride on toys for 1 year olds. The pushbikes 4 wheels are fabulous to protect your child safe and stable.
It's very easy to drive for children which allow them safe playing without you.
We have found this toy very effective which can help them to improve their balance and muscle strength.
Its rubberized wheels not only protect your floors but also ensure the longevity of the bike for extended use.
This push bike is an excellent choice for kids who are beginning to explore their mobility and develop active motor skills.
Short rides on the Scoot Around also contribute to the strengthening of muscles and the improvement of balance, promoting healthy physical development in children.
The Hape Scoot Around is designed with safety in mind, featuring durable materials and non-toxic, water-based paint.
With a comfortable floor-to-seat height of 228mm (8.98 inches), this push bike is suitable for young children and offers a safe and enjoyable way to promote their physical and motor skill development.
Radio Flyer Scoot is another ride on toy for 1 year old which is made of a steel frame. There are bumper included in the front of this toy which protects walls and furnishings from damage.
It is is an excellent choice for toddlers, designed with a focus on safety, motor skill development, and functionality. Here are some key points:
It is esigned with an ergonomic shape, providing a clear kick path for toddlers.
Its wide front wheels ensure stability and safety, allowing young children to kick freely without encountering obstacles. This design promotes a smooth and secure riding experience.
The working steering feature of this ride-on helps toddlers learn how to ride and develop crucial motor skills.
It encourages them to steer and control their movement, contributing to their physical and cognitive development.
The easy glide wheels of the Scoot About Sport provide a smooth and quiet ride, suitable for both indoor and outdoor use. This ensures that children can enjoy their adventures without causing disruptions.
The seat of this ride-on flips open, offering convenient storage space. This means your child can bring along their favorite toys on every adventure, encouraging imaginative play and exploration.
Little cozy truck ride on car for 1 year old set up with a tailgate drop-down feature which also includes a removable floor that can be used while your toddler will be growing up.
It is a sturdy and versatile ride-on toy designed to provide young children with a fun and engaging playtime experience. Here are some key features:
This ride-on truck is built to withstand active play, making it a durable and long-lasting option for children.
The Cozy Truck includes a drop-down tailgate and a removable floorboard, allowing it to grow with your child. This adaptability ensures that it can be enjoyed by toddlers as they develop and grow.
The inclusion of rugged "off-road" wheels adds to the versatility of the toy, enabling it to traverse various terrains and provide a more exciting outdoor experience.
The Cozy Truck boasts several realistic features, such as an opening gas cap, a working horn on the steering wheel, and distinctive truck styling, including a realistic front grill.
These elements enhance imaginative play and create a more engaging playtime environment.
The truck also features an opening and closing driver's door, fun graphics and dash, and tail and headlight decals, further immersing children in creative and interactive play scenarios.
It's important to refer to the User Manual before use to ensure safe and proper operation.
Little Tikes is the best ride on toy for 1 year old which comes with the adjusted seats.
It is a fantastic ride-on bike designed to provide a fun and educational experience for toddlers and young children.
This ride-on giraffe is a great tool for developing your child's motor skills. It encourages them to move, balance, and coordinate their movements, contributing to their physical development.
Safety is a top priority, with an oversized back wheel that provides added stability and a wheel guard for extra protection.
This design ensures that children can enjoy their ride while you have peace of mind.
The ride-on bike is suitable for both indoor and outdoor use.
This versatility means that your child can enjoy it on sunny days in the backyard or indoors on rainy days, providing entertainment throughout the year.
It's not only offers hours of fun but also helps strengthen your baby's balance and coordination skills. It promotes the development of coordination, balance, and large motor skills, making it a valuable educational tool.
The seat is adjustable, allowing you to customize it to your child's needs as they grow. The customizable spot decals add a personal touch to the ride-on.
It encourages physical development, offers safety features, and can be enjoyed both indoors and outdoors, making it an excellent choice for toddlers and young children.
Pewi Y bike riding toys for 1 year old have able your child to push around which is a very durable toy.
This versatile design holds your child's development stages which is help them to walk as they becoming bigger.
The YBIKE Pewi is a fantastic ride-on and "walking buddy" push toy designed for children aged 9 months to 3 years.
It's suitable for both indoor and outdoor use on smooth, level surfaces, and it serves various functions, from riding and pushing to sitting and supported walking.
This award-winning design aids in the development of essential motor and cognitive skills like balance, coordination, strength, confidence, and spatial awareness while providing endless fun.
The Pewi features a lightweight yet durable aluminum frame, a molded plastic seat with a soft foam pad, an easy-grip handle, leg clearance for unrestricted movement, and multi-directional 360 non-marking caster wheels.
It's a versatile and safe option for kids, with enhanced safety features to ensure stability, comfort, and security.
The Alphabet Train ride on toys for 1 year old boy comes with the steering wheel which allows the toddler to press different buttons.
It includes multi-feature while using a shovel making 360 degrees around.
This versatile push toy is designed to adapt and engage your child's developmental needs.
It serves as a floor toy, a ride-on, a baby walker, and a pull toy wagon, offering various play options.
With 10 activities, including a storybook and clock, and 13 double-sided alphabet blocks, it promotes fine motor skill development and introduces letters, numbers, colors, and more.
The toy encourages toddler role-play with a walkie-talkie and number pad, fostering imaginative play and teaching numbers and animal names.
With over 100 songs, melodies, sounds, and phrases, it provides a fun and educational experience, making it suitable for toddlers aged 1 to 3 years.
Please note that it includes 3 AA batteries for demo use, and new batteries are recommended for regular use.
Chillafish Quadie ride on toys for one year olds comes with 4 wheels which your todd can drive indoors-outdoor anywhere around.
The 2-in-1 balance bike and tricycle is an ideal choice for children aged 1-3 years.
It allows a seamless transition from a 3-wheel tricycle to a 2-wheel balance bike without the need for tools, which empowers your child to learn balance at their own pace.
The adjustable seat accommodates your child's growing needs, and its silent, non-marking, anti-skid synthetic rubber tires make it suitable for both indoor and outdoor use.
Lightweight and featuring a built-in carry handle, the Bunzi is easy to transport, making it perfect for your child's adventures and outings.
8. Toddler ride on toys

Radio Flyer toddler ride on toys suitable for different age groups and comes with UV rays protection design for the kids.
The four ways depending on riding make it compatible for both parents and kids. It can be used for more extended periods, which help them learn to ride and enjoy the ride.
It is foldable and portable which can be kept in a small place. It is safe for kids due to design and belts.
Five thousand nine hundred forty-one peoples with a 4.6 rating have reviewed it.
9. Smar Trike ride on for 1 year olds
SmarTrike push car for baby is a three-stage ride-on for kids that means it can be used for ages up to 3 years; both parents and kids can control it.
Later it is useful for kids to learn and ride this fun vehicle. It has space at the back and features that make the ride smooth and comfortable.
This Ride on toys for 1 year old is concerned for the safety of the kid with design and additional protection. It has 4.5 ratings with 381 reviews.
10. Tricycle ride on push toys for babies
Costzon tricycle ride on push toys for babies is a multi-purpose ride-on with a unique design.
It is a well-made parental control for toddlers and protection over it and the kids learning to ride the tricycle.
The parts can be easily attached or detached as per the use, making it portable and convenient for travel.
The storage basket with the safety of double brake and design with additional features. It has a 4.5-star rating with 993 reviews.
11. Toddler ride on toy for 1 year old with 2 wheels
Cargo trailer bicycle toddler riding toys are available with a very safe design. It can be used to hold and run while jogging and making it convenient for parents to take care of kids.
And also provide an adventurous ride by attaching it with another vehicle.
The design with additional features like braking and lock system becomes a secure vehicle for the kids.
Easy to connect and kept in any place. It has 4.3 ratings with a 637 review.
12. Tricycle baby sit on toys
Schwinn Roadster is a tricycle for baby sits on toys designed with an adjustable seat for growing kids.
It is a thrill tricycle for the kids, which they will love to play and learn to ride. The handle and pedal make it easy to control by the kids.
The design makes it unique with a wooden logo, and the bell makes it exciting for kids. It is a lightweight steel frame convenient to ride for kids.
13. Minnie toy cars for 1 year old
Minnie toy cars for 1 year old is a product of Kiddieland. The product is for one-year-old to 3-year-old toddlers to be used and inexpensive in many terms.
The product needs to be assembled before using it. It has an attractive color, which gives a sense of fun to the child while he or she is riding it.
It has designs and prints of Disney land characters, which makes it more enjoyable and beautiful.
The toddlers have their official Disney Minnie ride. The kids learn from the toy by turning around their hands.
14. Fisher Price 12 month toys
Fisher Price 12 month toy Laugh & Learn Crawl Around Car is made up of plastic. It is a stationary car that helps the kids develop the ability to sit, crawl, move all around, walk, pull up, and stand.
It includes built-up ramp balls, which are three in number. It has a shape block door, with different colors. The kid learns how to honk a horn and steer the handles.
For interactive learning and imagination growth, it has over 75 sung songs and tunes or phrases.
15. Little tikes toys for 1 year olds
Little tikes toys for 1 year olds princess horse or carriage is a multicolor product and inexpensive to gift a kid.
The product is for girls to give them a sense of adventure and fun of being a princess. The carriage needs to be pulled by the parents to provide a ride to toddlers in their kingdom.
It can be rid of both outdoor and indoor. For safety, it has a floorboard, which can also be removed. The toddlers have rein and can also drive the carriage themselves.
16. Little tikes Childrens riding toys
Little Tikes childrens riding toys horse is a simple and inexpensive riding for kids. It has a high seat back with smooth rounding and handles, which has comfortable grips for children.
The horse has a low saddled design to maintain stability; the toy does not require assembling and has the perfect size to be used anywhere. It comes in the color blue.
The kids can rock with fun on a happy horse. The construction is sturdy of the horse with a unique design for being appealing to kids.
17. Rocking Horse toddler riding
Toddler riding a rocking horse is an amazing product of the label. It is a toy for 1 to 3-year-old toddlers. The item is a little expensive as it is made up of plywood, wood, or plush.
It has categories for both boys and girls like a pink unicorn, mammoth, giraffe, blue elephant, and rocking dragon.
Its unicorn design is award-winning. The material used for stuffing is soft for babies. This Ride on toys for 1 year old has a sturdy structure as it is solid but not heavy.
18. Best 1 year old toys Wagon for toddlers
Best 1 year old toys Walker Wagon now available for toddlers from sitting to standing. It has a model number 612s. The wood walker comes in red color and is inexpensive.
Radio flyer started, which is a safe and versatile model that is also award-winning.
The stake sides are also removable made up of wood, which gives a classic look.
It is also home-friendly, as it has a furniture bumper. The item is for a 1 to 4-year-old Toddler.
19. Baby ride on toys Bike
Baby toy bikes for children are for 10-36month babies. It has four wheels. The item is the best holiday gift for children and pocket friendly as it is inexpensive.
The brand of the product is Ancaixin, the color is of dog, and it is made up of carbon steel material, which is non-toxic for safety measures.
This  Ride on toys for 1 year old can be assembled quickly, with no tool. It has a sturdy frame, soft, supportive seat, and steering, which prevents the child's falling.
Conclusion
In conclusion, the article discusses 20 of the best ride-on toys for 1-year-olds, highlighting their features, benefits, and suitability for children of this age.
These ride-on toys offer a wide range of options for toddlers, promoting their physical and cognitive development while providing hours of fun.
Some notable products mentioned in the article include the Hape Scoot Around, Radio Flyer Scoot About Sport, Little Tikes Cozy Truck, Pewi YBIKE, Alphabet Train, Chillafish Bunzi, and various other ride-on options.
These products are considered some of the best options to buy for 1-year-olds because they offer several advantages. They help children develop essential motor skills, balance, coordination, strength, and spatial awareness.
Many of them are designed with safety in mind, providing stability and protection for young riders.
These ride-on toys also encourage imaginative play, introducing letters, numbers, colors, and more.
Additionally, the adaptability and adjustability of some models allow these toys to grow with your child, providing long-lasting entertainment and educational value.
These ride-on toys offer a well-rounded and fun experience for 1-year-olds, making them great choices for parents and caregivers.